Home » Gulet Chartering »
Gulet holiday in Italy, what is the best place to be?
Italy is known all over the world for its stunning coastlines and its culturally rich cities. It is also a very historical country with some of the greatest moments in history, and the birthplace of the Roman Empire. In order to explore the beauty of the coastal areas and bays, a Gulet Holiday in Italy is ideal. And if you are looking for the best cruise for gulet holiday in Italy, then Wondergulets Group Cruise programs will be the best option. A company based in Italy for more than two decades. We will take you to all the popular historic sites and beautiful harbors. And at the same time, we will also make sure that you are always relaxed and having a great time.
For our cruises, we have very carefully selected the gulets to meet our high technical and safety standards. Because apart from providing excellent service, we also want to make sure that our guests enjoy the experience of riding in a superior gulet. In order to make sure that our guests are always safe and secure, we only team up with highly experienced captains. We also have a great team of high quality chefs, who specializes in Italian cuisine.
All our meals which are served on board are prepared in the galley of our gullet. Italian cuisine is very wide. Our extremely skilled chefs will provide you with some of the best dishes, which Italian cuisine has to offer. There is a chance you can taste dishes from the restaurants in the towns that we visit. Other than this, to take the experience of our guests to a whole new level, we also serve some meals in unique settings like remote coves and beautiful towns.
Italy is a culturally rich country. People come here to experience its unique culture. Wherever you visit, you will definitely get to see some historical structures like museums and temples. They offer an insight into the past of Italy. It is quite amazing to see these ancient structures against the backdrop of the current Italian lifestyle. The stark contrast between the old and the new is quite amazing.
What about Amalfi coast Gulet cruise Programme?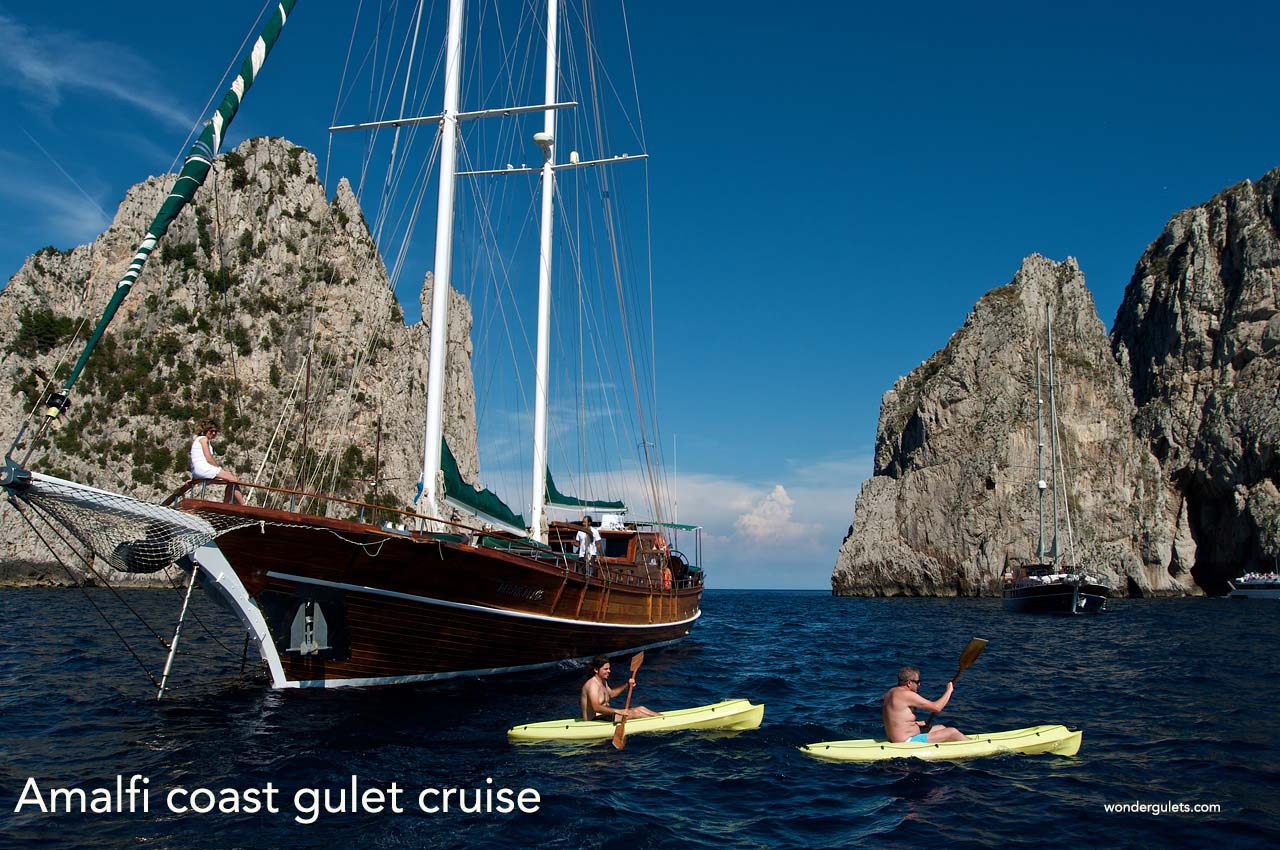 The Bay of Naples and Amalfi Coast. And traveling in a wooden boat is the best way to explore these cultural sites. Apart from the popular sites like Ischia and Naples, we will also take you to other destinations like Positano and Capri island. Also like Ischia Island Procida Island They may not be as popular as Naples, but they are also equally stunning and beautiful. And since the crowd is less over there, you get the opportunity to freely explore the entire time.