Eat and dine comfortably while cruising in our magnificent gastronomic gulet cruise in Turkey!
First Things First!
The chef, one of the most important members onboard!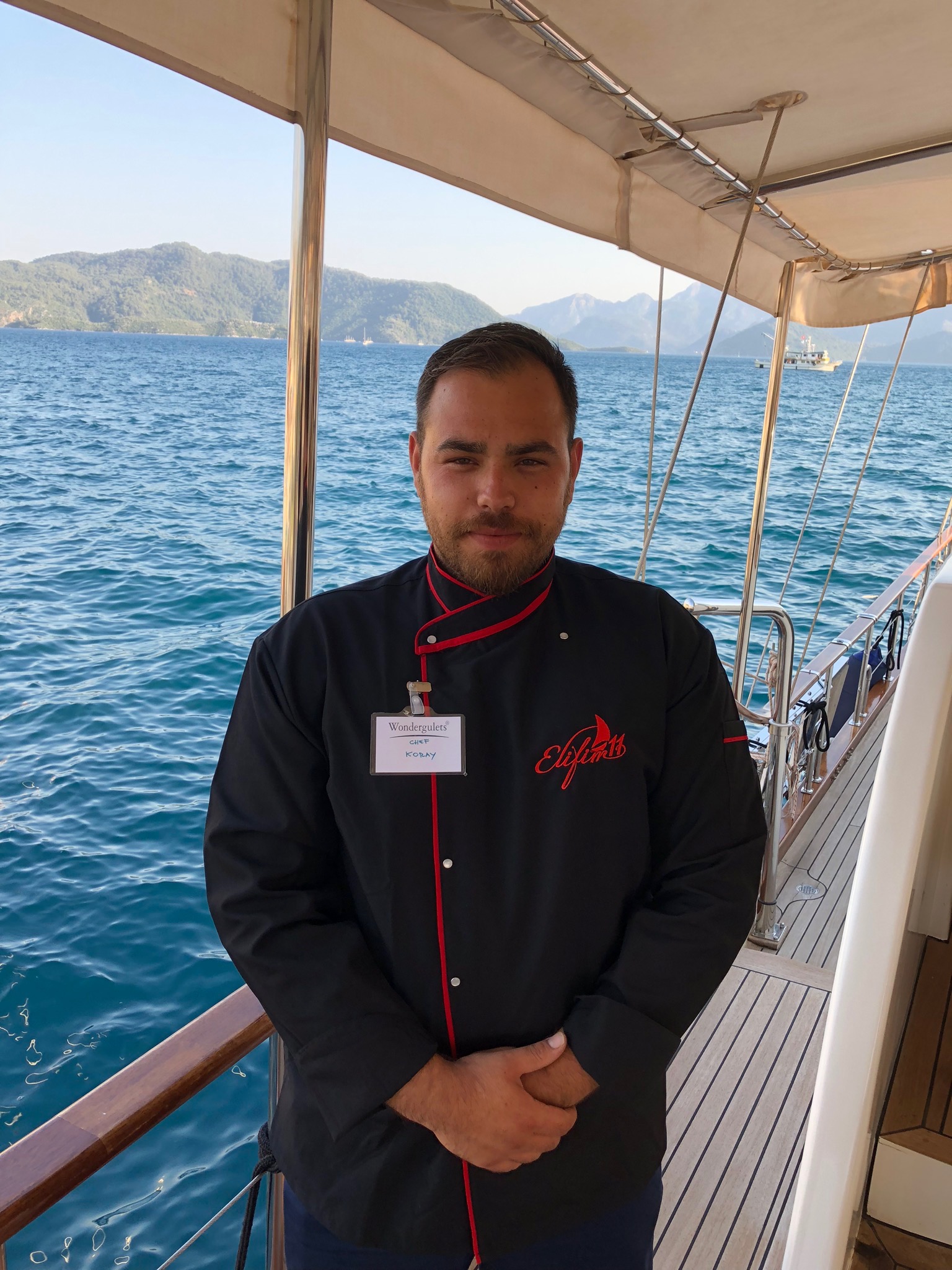 Not only the usual dishes you will enjoy onboard served up by the chef, but you will get to taste special dishes and involving by preparing them.
A section of our clients who are into traditional gulet has echoed how food is prepared and served at the gastronomic gulet cruise Turkey.
Since 2001, Wondergulets have been providing these cruise offering with the help of cultural and archeological recesses in Turkey. 
Organize your Gastronomic cruise by talking to an expert!  ENQUIRE NOW
Unique food and drink holiday in Turkey

Not only you will enjoy all the usual finger-licking dishes prepared and served by the cook onboard, you will come across presentations in the traditional cafes and also get acquainted with cooking and conjuring up the greatest Turkish dishes onboard you have ever tasted.
Within the journey, you will prepare Turkish regional delicacies with local Turkish chefs. This is normally a voyage to make good use of your taste buds. It has also lots of discoveries about the Turkish culture on their ancient delicacies.
Your expert guide will ensure you are aware of the Turkish history, lead you to a wonderful retreat filled with cultural adventures to some underdeveloped yet most amazing and beautiful natural sceneries in Turkey.
Through this Gulet-voyage, you will encounter Turkey's most attractive heritage sites such as monumental wonders e.g Kaunos. The place has marvelous rock-cut temple sepulcher with superbly preserved Knidos.
You will also explore a breath-taking marbled city precisely organized around a harbor. You'll cherish some walks in splendid sceneries visiting old towns such as Lydae. The town is set in a remote amazing place that is not fully excavated.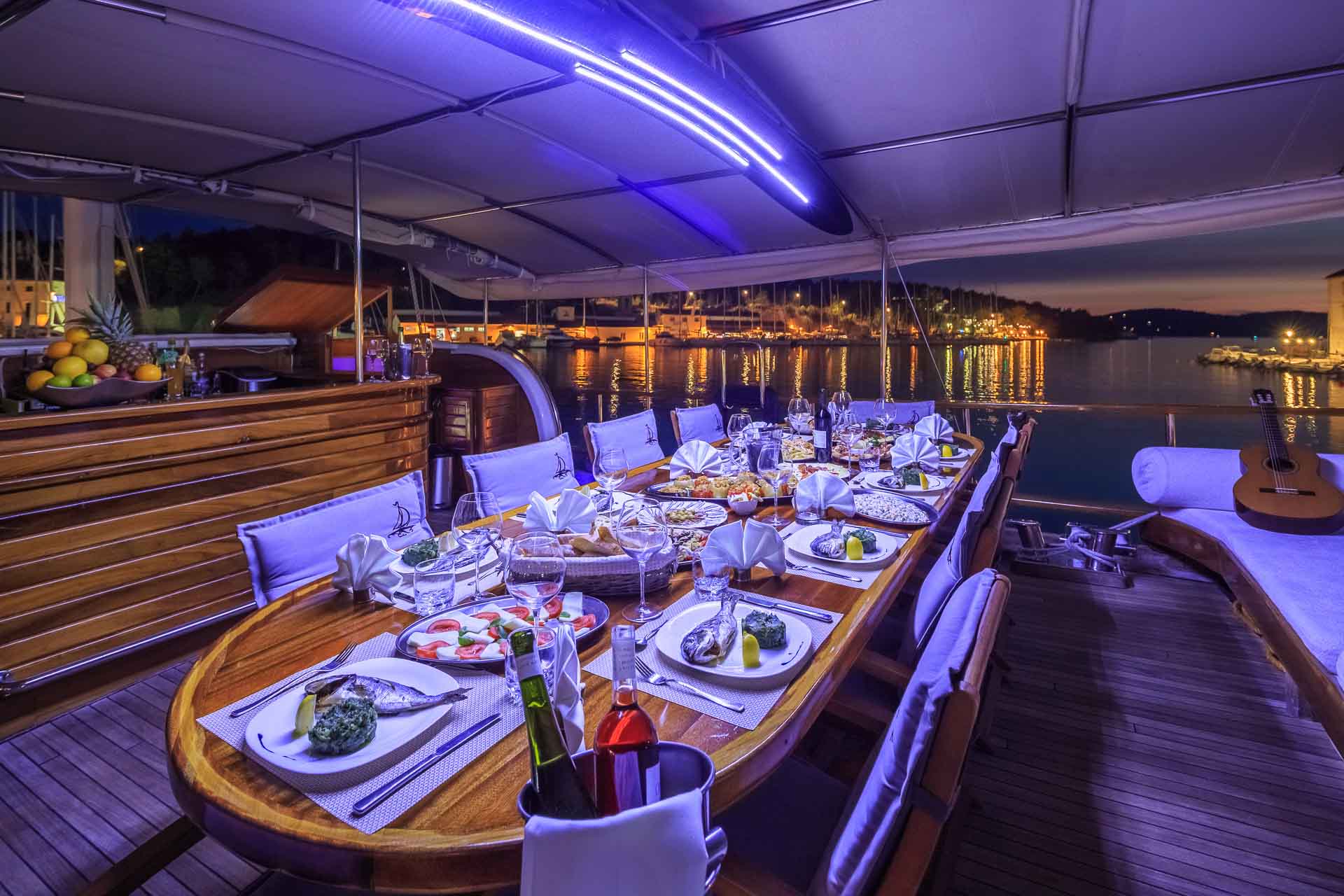 Food has appeared to be special requests on each of these cruises for some time now.
We make the culinary the center of attraction on the ancient Turkish gulet; we also deliver some cooking demonstrations to some local hotels and restaurants. And we also make sure that we make regional delicacies with the help of the locals who are best at doing it.
To boost up your appetite we also organize for onshore excursions to some of the ancient sites in Turkey that provide a little history about the Turkish people. These excursions also just provide wonderful sceneries to our clients that will leave you somehow refreshed and nourished.
Make an effort and board the voyage for the gastronomic gullet cruise Turkey and have a ride of your lifetime. A one-week of the Turkish cuisine retreat will equip you with so much information about the Turkish people and at the same time refresh your mind, body, and souls from the breathtaking sceneries it provides.
Nothing excites more than having in mind that you are going to taste some of the most delicious meals in Turkey prepared exclusively the Turkish way. The juice even becomes tastier when you are aware that you are going to learn how to prepare some of these delicacies.
Apart from mouth-watering meals, you will also visit organic vineyards to take the best wines around and taste some cheese too. This is surely a trip one would die for since you will enjoy and benefit fully from the skills you will acquire there.