Home » Gulet Information Category »
Every gulet crew members work is crucial for a Happy-ending holiday!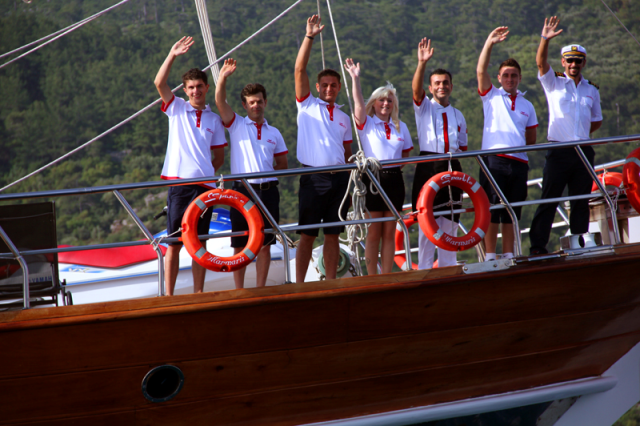 Crewed gulet charter are operating charters on a fully crewed basis. The number of crew depends on the size of the gulet and the group.
2/3 cabins – 2 crew (captain + sailor/cook)
4 cabins – 3 crew (captain + sailor +cook)
5/6 cabins – 4 crew (captain + 2 sailor +cook)
7/8 cabins – 4/5 crew (captain + 2/3 sailor +cook)
10 cabins – 5 crew (captain + 3 sailor +cook)
4 cabins – 3/4 crew (captain + 1/2 sailor +cook)
5/6 cabins – 5/7 crew (captain + engineer + hostess + 1/3 sailor +cook)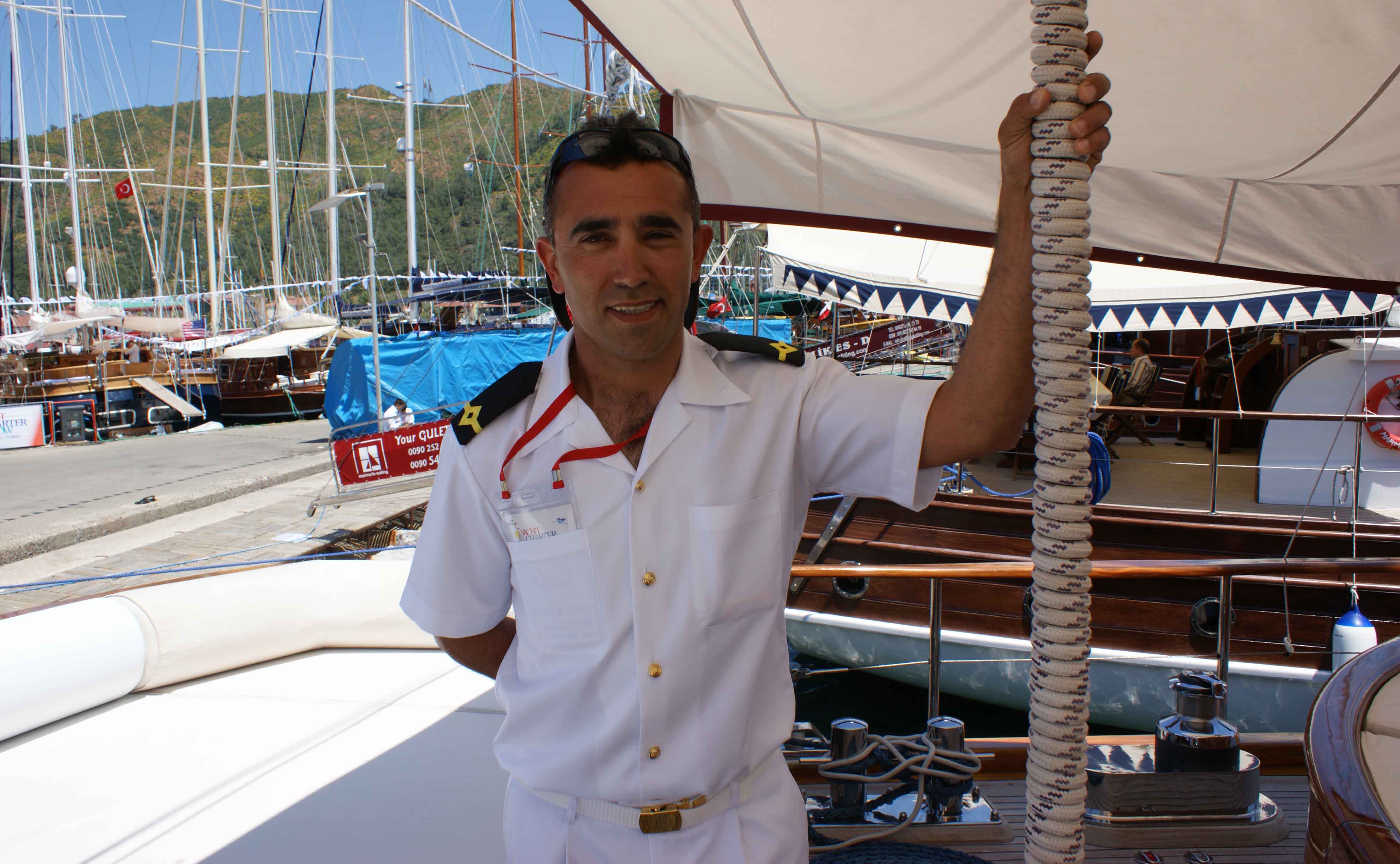 Any good captain should be able to guide you with your route and take you to those places that you have unseen and less touristy . As a captain, he will have the maximum responsibility onboard. It is the responsibility of the captain to make sure that everyone including the passengers, the crew members, and the boat itself are safe. A captain also discusses important matters ,routes with clients also before embarkation .If the gulet is crossing boarders the captain has to deal with port controls. Well the captain should speak reasonable English for the convenience of communication, specially with you. Your captain can make your gulet cruise holiday memorable!
A chef also has an important part to play. He/she has to not only prepare delicious food but also to serve it in a way that is palatable and appealing. It is the food that every passenger on the boat will never forget and thus it is a challenge for the chef to prepare dishes in a way that everyone loves.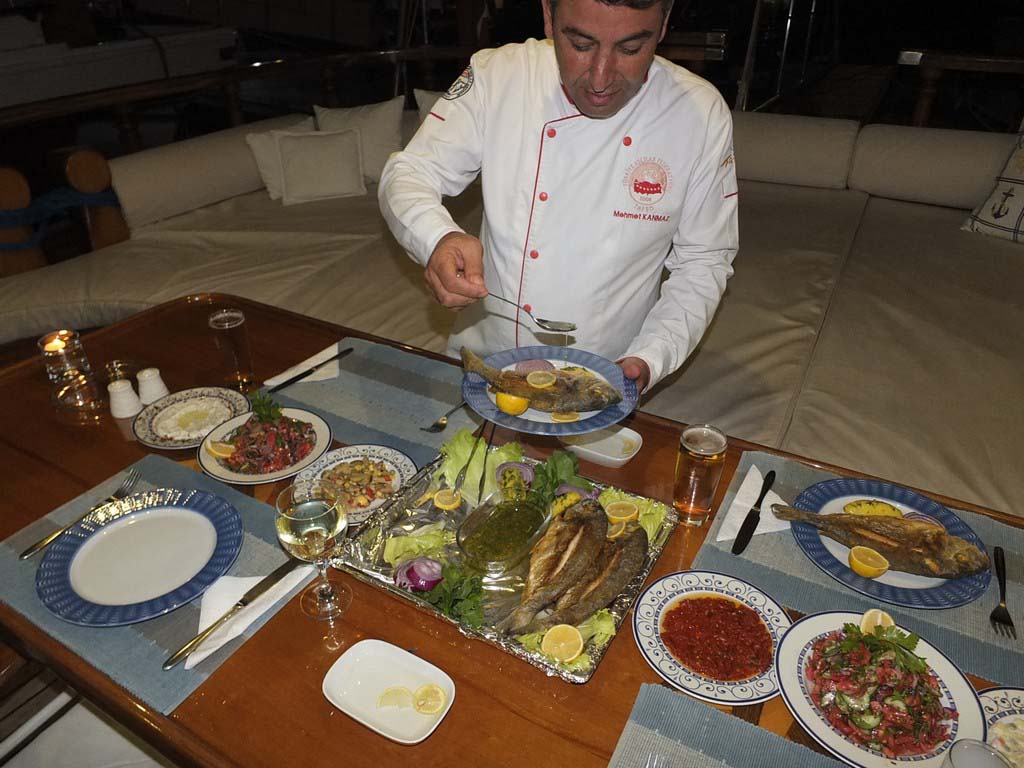 Everything concerning the food preparation is the responsibility of the chef. In the private gulet charters, the chef has to buy the ingredients including meat, fresh fish, fresh vegetables and fruits, and anything else from local markets. This is the traditional way of cooking if you are on a traditional turksih gulet cruise. And he should be an expert on local dishes !! When you sit for a good meal it can take up to 4 to 5 hours until you get up from the table. A good crew will entertain you with their stories while you dine.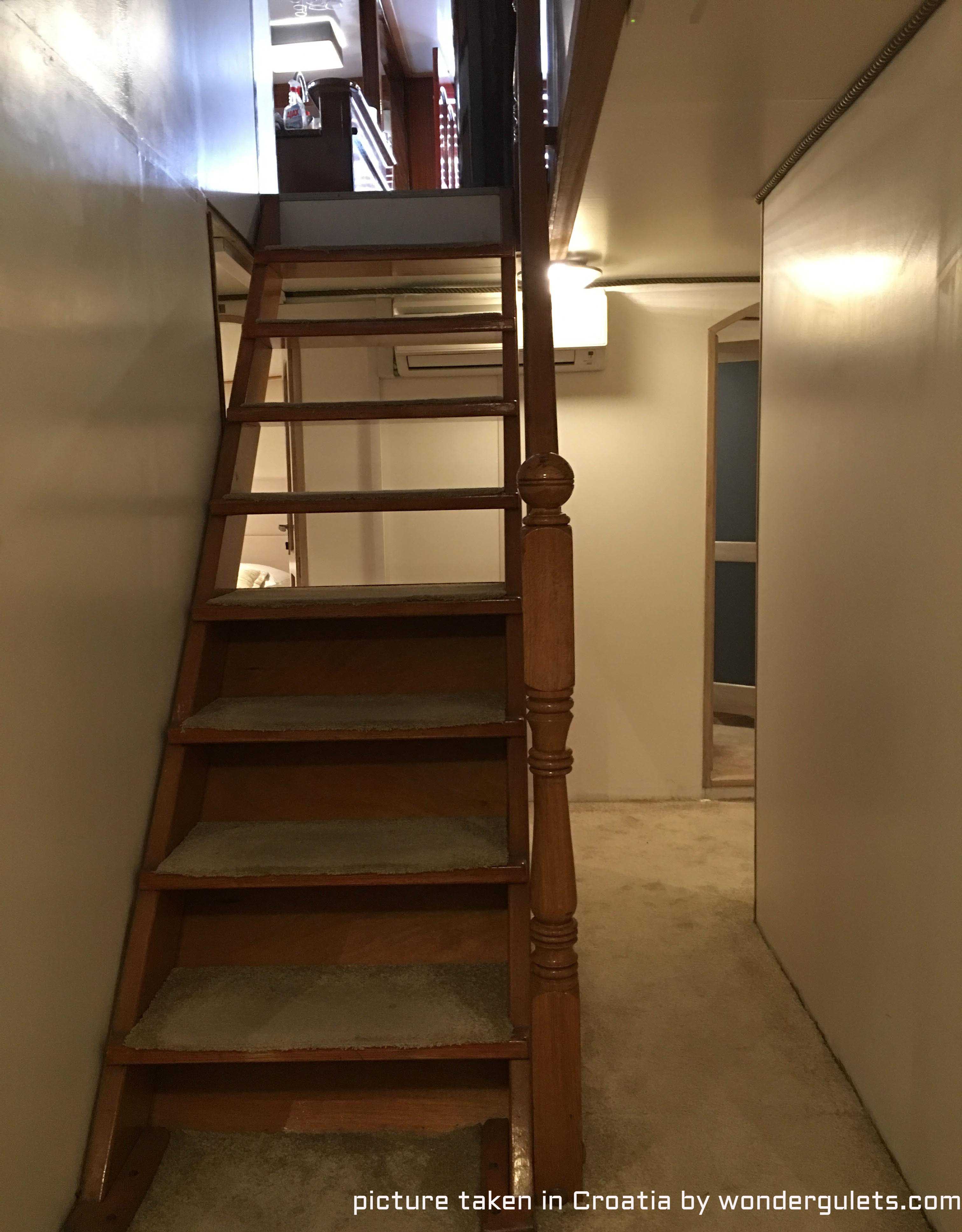 The waiter/Hostess will take care of your every need while dining. They will be able to tell you, which wine you can pick depending on your taste
and will serve you the same very fast. The waiter has the responsibility of
greeting the guests with warmth and make sure they are comfortable and all their needs are immediately fulfilled, and this is why they must be full of
energy and have the right etiquette.
So, in each crewed gulet charter the members need to be just perfect. We are not saying that they are 100% perfect but the each gulet we offer you is handpicked, which means we know the most crew. Many of them we have seen and spoken with.It can be Turkey, Greece, Croatia or in Italy. A friendly knowledgeable crew is a must. We cannot underestimate the crew, we are telling you this by experience.
A nice 12000€ to 15000€ (per week ) gulet with the friendly crew is easily sold out with return clients or with word-of-mouth.
Gulet Cruise will be memorable because of the crew. That's a fact.