Anyone, who had an occasional or usual visit in Bodrum, Turkey, may have observed splendid, picturesque rows of boats, sailing here & there, beyond the harbor towards the depth of sea bearing the flocks of holidaymakers, or having a rest on the harbor or marina, waiting for another cruise. The Gulets, also acquainted as Blue voyage are the so-called boats that confused & puzzled you, by their peculiar appearance.
Here is a Video of group a of people spending their holiday on a "Blue voyage". 📍Location Italy
If you are known to this concept here are some Cruise itineraries in Turkey that we offer
Turkey Gulets, also known as Blue Voyage Turkey, enchant the tourists spread all over the world, so amazingly that, the whole Mediterranean is overwhelmed, with clusters of Gulets, taking plenty of holidaymakers, always plunged with the eager of a joyous cruise for the vacation, throughout the summer. As a matter of fact, you can find more than five thousand Gulets, embracing the crystal-clear Mediterranean waters every year.
The Gulet crew always consoles the tourists with moments filled with excitement, mental & physical relaxation, exploring capability, swimming in blue water, fresh & delicious food, and also, onboard activities which give you a sheer joy, mixed with a glimpse of fear & hesitation.
What is a Blue Voyage?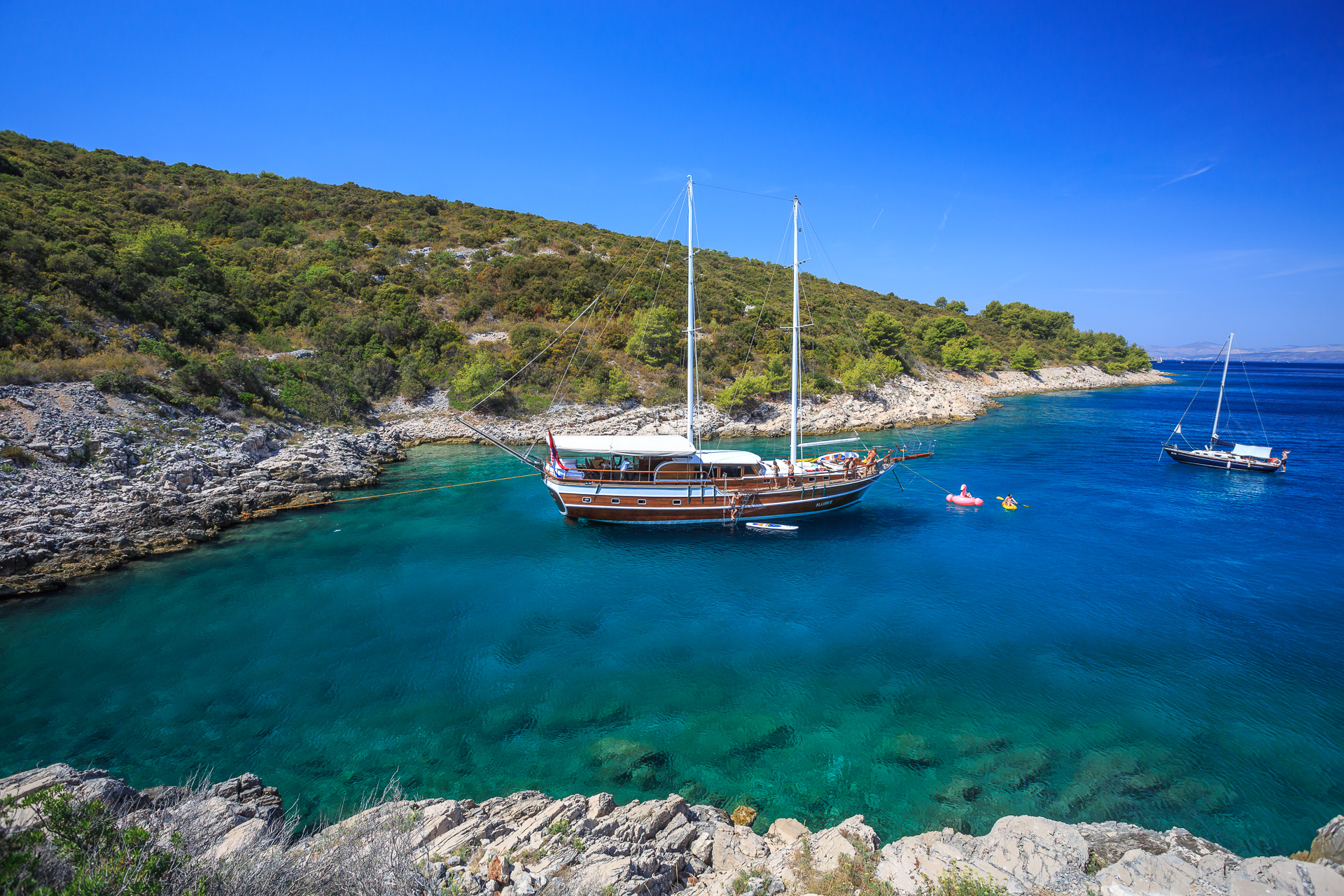 The term Gulet commonly referred to as the wooden fishing boats sailed across the Aegean Sea. Today the usage of this wonderful Gulet has been changed by transforming it into a mini floating hotel. The Gulet cruising is abundant around the Southwestern coast of Turkey. The term Blue Voyage or Blue tour which is used in Turkey's tourism industry, Turkey has invaded almost every nook & corner in the cruising field of Turkey, becoming a world-famous brand of Gulet cruising.
A little bit History of Gulets (Blue-voyage)
At the most primary stage of tourism, centralized around the Mediterranean, the private cruises were merely limited to wealthy yacht owners, who were fond of activities such as voyaging on sponge diving & fishing, in consideration to their creature comfort. After that, around since the late 1970's wooden sailing boats, seemed to be handcrafted vessels also called Gulets then, have been commonly seen along the coast of Turkey, Greece, Croatia, & Italy.
After the arrival of the recreational cruising, exclusively prepared for passenger comfort, Blue Voyage Turkey, were equipped with massive versatility, beyond the superficial appearance of Gulet, rather traditional wooden boats from the past.
Even a most basic Gulet, occupies guest cabins, private sanitary facilities, shower facilities & host of safety features nowadays, which distinctively make the tourists contented, assuring their utmost safety.
In addition to those, nowadays every sailor occupies a boat of any size from the tiniest fishing boats, to largest cruise liners.
Gulet Voyage Cruising & Turkish Coast
Gulet cruising was invented, several centuries ago, as a better way of exploring the Turkish coastline, by sea. Actually, it is the gorgeous Turkish coast & archipelago, which gave birth to Gulet cruising, as it is full of attractive sceneries of preserved bays, inlets, beaches as well as, archaeological ruins & historic sites. The gorgeous & fantastic city, Bodrum is considered to be lying-in-home of Gulet voyage cruising, which is located next to the turquoise sea. Bodrum has now become a renowned destination of tourists, spread throughout the world.
Blue Voyage Bodrum
The cruise service suppliers of Bodrum who first revealed this concept of Floating mini-hotels, provide holiday making facilities in the Mediterranean, based on private or cabin charter Exclusively for the followings,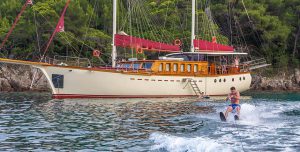 A wide range of Gulets is available in various sizes & outfits, built according to standards of luxury.
How are the Gulets Conquering the Summit of Luxurious Cruises?
In addition to the traditional characteristics of standard boats, the newly introduced Blue Voyage is appointed with most modern features;
Air Conditioning
Wifi
Solar electric panels
Some exclusive Blue Voyage contains the followings in addition
On-deck Jacuzzis
En-suite bathtubs
Eye-catching museum artwork, adorning the interior walls
Booking a Blue Voyage holiday
When making reservation on a Blue Voyage holiday in Turkey, and which can find many solution both for your holiday entertainment & for your budget. The charges may vary depending on the the luxury of each Gulet. So, all the guests are kindly advised to select a Gulet, fitting into your economy & the luxuriousness that you are looking for.
The Gulet prices may range, depending on;
Time of year
Number of cabins
Available amenities
Boat age
The duration of a Gulet Cruise may differ, according to package, but normally it exists more than 7 days.
If you book a CABIN CHARTER, you may rent merely one cabin on the crewed Blue Voyage & exchange the common space during the cruise. Here, the prices are always charged per person, with some particular conditions, such as based on double occupancy or single supplements apply.
PRIVATE CHARTER is specifically, beneficially prepared for a cruising group. So, you are capable of accompanying your family or travelling companions for vacationing in a private charter Blue Voyage for a relatively fair cost, as you can buy the entire Gulet, including all the services available, merely on behalf of your group's exclusive use, despite the number of holidaymakers in your party. But there may be a bearable, maximum limit of people. It may be a less expensive option in such a necessity. In this exclusively yours Blue Voyage, the schedule & itinerary can be customized, according to your own requirements.
Actually, what can you expect during your time onboard?
This concept of Blue Voyaging in Turkey & also the everlasting memories which are penetrated into your bones, marrows & whole your spirit will distinctively distinguish from a typical day at sea.
The crew, awaiting eagerly for your numerous fulfilments.
Operating the Gulet.
Ensuring the safety of boat.
Keeping the boat clean.
Preparing & serving tasty dishes.
Attending to every need of the guests
2. Entertain yourself, relaxing onboard even throughout the day.
If you are totally new to gulets, I invite you to hop in to a gulet in Bodrum marina and you can observe the environment , cushioned seating areas here & there, making the tourists get relaxed eagerly bulk of their time onboard.
Check out this video which you will get a good look at a Gulet!
Luxurious sun-beds, especially designed for catch sun rays, where they lying back, comforting themselves & working in their cruise, bathing themselves in aureate sun rays, which seem to be extremely mild & placid, when mixed with blowy surroundings of the Mediterranean.
3. Festive banquets on time; as you're willing.
Eating, is a compulsory part, in any cruise service. Blue Voyage Turkey also, provides this facility, as best as it can, without leaving any shortage of your dishes, & also with an added value, in comparison to other cruise service providers.
The chefs, talented in preparing food items of different cultures, would be longing for, feeding you with a massive Turkish breakfast, a wholesome home-made lunch, a late eve dinner prepared on the barbeque & also afternoon tea & snacks, in addition to those.
Another virtue, visible in any member of Blue Voyage crew is the courtesy, & respectfulness towards the guests, no matter how busy they get with the endless toils in Blue Voyage.
Most meals are consistently, served in Family style, on the big outdoor dining table of Gulet, with everyone supporting themselves from shared platters.
In fact, these banquet cultures is attributed to the meals of Gulet cruises, in order to promote unity & intercorrelation among racially &culturally, separated individuals, especially in cabin charter Gulets.
4. Getting from place to place.
Each day, Gulet usually moves a few times, depending on your cruise itinerary. The sailor hops in the dinghy to untie the lines keeping the Gulet in exact place & simultaneously, the captain starts the engine. The anchor holding the front part of boat is raised then. This process may take a considerable time. For instance, in some spots, it is required 150m or more length of chain to be laid out to keep Gulet safe in position.
5. Have a comfortable slumber under a murmuring, chilly breezes & twinkling stars.
The majority of the guests prefer sleeping on the deck during the hottest days of summer.
You are capable of falling asleep at ease, without any interruptions of pesky mosquitoes flying here & there throughout the night, & dawn, after covering yourself in insect repellant. In addition, you would intermittently, feel like the delicate winds, crossing the giant Mediterranean, tickling & smoothly hugging you.
If you spent a night at Blue Voyage Turkey, you would see the clusters of stars, lodging in the massive sky, stretching towards the infinity, glancing at you, erasing your isolation, until you fall asleep. The summer sky above the Mediterranean is utterly spectacular & obvious, as the influences of light pollution is negligible.
Thus, you can wake up in the elegant Mediterranean twilight, supplying a preamble for another day of joy, in the Blue Voyage.
6. The massive variety of water sports & leisure time activities.
You are provided whole range of water sport activities, available on board. Besides, you are also capable of entertaining yourself by;
Covering beautiful paradises of Turkish archipelago.
Shopping in unique villages & towns.
Visiting historic ruins.
7. A reliable life assurance.
Blue Voyage Bodrum offers insurance cover & safety equipment such as life jackets, life rafts & emergency kits, according to standard safety regulations of Turkey.
Blue Voyage Bodrum has been getting dignity for the best hospitality & client satisfaction for numerous decades & still it is the same. So, you are cordially invited to have this everlasting experience at least once in your life. But whenever you are visiting the tranquility of nature, during your destinations of Gulet Cruise remind to take only memories & to leave only footprints, for the sake of our future generation.