Home » Turkey »
A Gulet cruise is one of the most popular and attractive tourism concept that allows you to experience maximum relaxation while having a good time. However, not many tourists know when is the best time to make a Gulet cruise booking whether for friends or a group of family. In fact, booking a Gulet cruise is not easy, any mistake will cause you or your family a hard time. There are several pros and cons that come with an early or last minute booking but it is better to book early to avoid last minute disappointments. For a Gulet cruise, the best deals come with early bookings.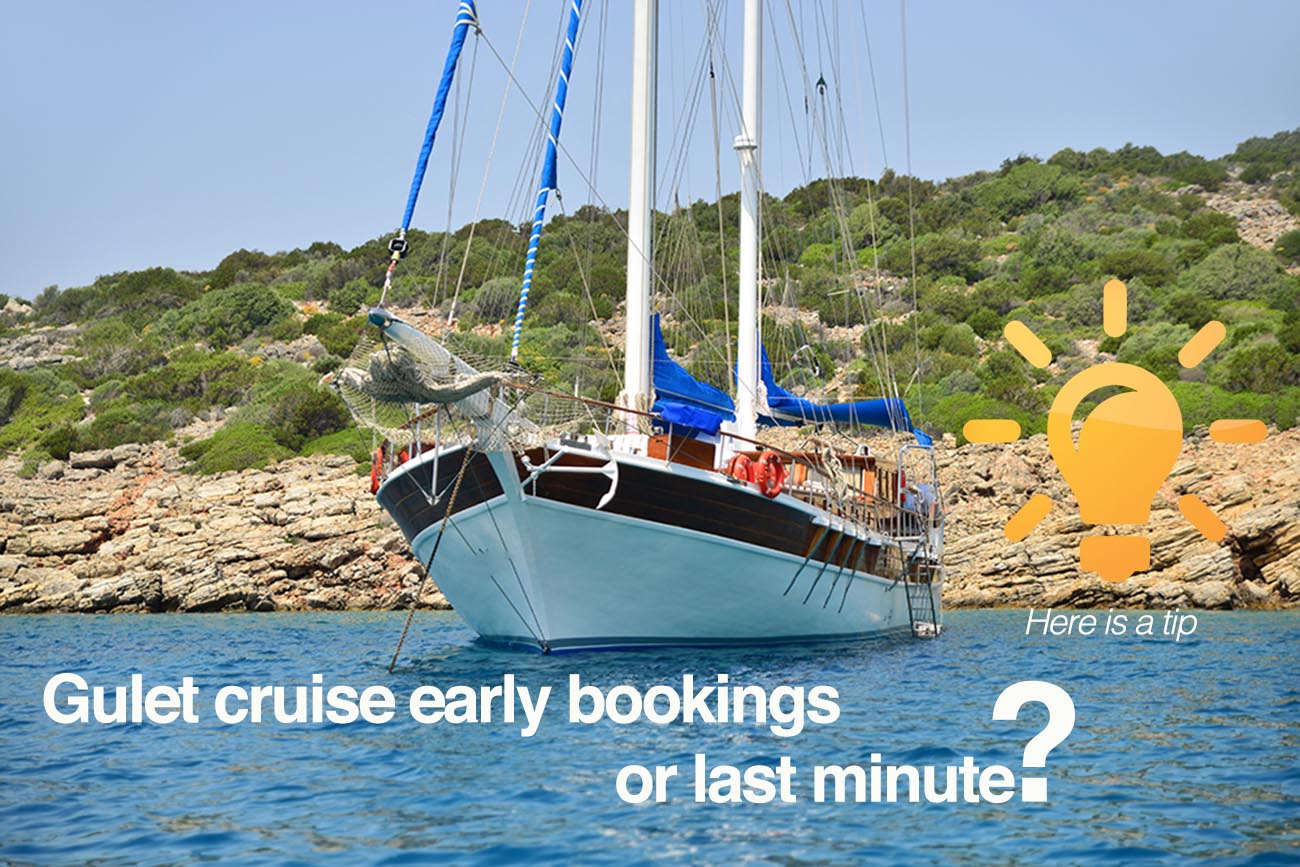 Early Booking Vs Last Minute Gulet Booking
The best last minute deals are not available on the internet but one advantage of booking a Gulet cruise in the last minute is that you will be able to get the cheapest offers although this does not really mean that you will have the biggest satisfaction. Last minute bookings have good deals too but there are very limited options for you to choose from especially during the high season. Unlike hotel rooms or flight seats, you can not book a Gulet cruise from one click hence last minute bookings are not recommended.
With early bookings, you have enough time to plan and organize but you have to be more careful with last minute bookings.
Good last minute deals are hard but it will also depend on your luck. The best time to make a Gulet cruise booking is a few months before your departure when you can get a better price with many Gulet selections available offering the best services which means that at the end of the day, you will have greater satisfaction. The early booking season ends in February. The decision as to what suits you best is entirely yours but cheaper prices that come with last minute bookings is not recommended by us. You can talk to Gulet cruise experts who can assist you in the planning of your Gulet cruise and also help you find the best deals.
The request can be made from this link, The gulets display here is hand-picked ones.
Check out gulet Special offers