What is a Gulet
The Gulet, classic Turkish boat, is a traditional wooden motor sailor powered mainly by engine. It's the heir of those ancient fishing boats that sailed across the Aegean Sea hundreds of years ago. Today the purpose of sailing this wonderful Gulet had been changed by transforming it to a mini floating hotel, the famous Blue Cruise, that serves the most delicious cuisine to its guests and will offer them the best hospitality experience by its crew. Every Gulet cruise has an insurance cover and safety equipment such as life jackets, life rafts and emergency kits, according to the standard safety regulations of its country. They are also subject to periodic inspections by relevant authorities to ensure safety and comfort of the guests onboard.
---
Our Cabin Charter
Under our Individual Cabin Cruises, we offer you the opportunity to book a cabin or more on a Gulet cruise, which will also host other individual passengers as well. This is a great opportunity to spend a different holiday, the Blue cruise, while meeting new people and friends. We have a special way of organizing your cruise, defining it for adults or for families with children. When choosing our offers, you can have a look to Gulet pictures and details before booking, this is a very important aspect of our offers, very different from the others you can find in the web.

Once you enjoy your breakfast, you will spend your time sailing near the coast for very few hours per day (2/3 hours) to reach out spectacular, quiet bays, beautiful islands with fabulous coastlines and sites of historical values.
You can fully enjoy your holiday, relaxing either with sunbathing on the deck or a swim in quite and clean water. Our culinary experts will indulge your taste buds with delicious dishes for the lunch served on the spacious stern table. If you feel that it's time to have a small siesta, your air-conditioned cabin is waiting for you or maybe you prefer to take a rest under the shades of the awnings. The choice is yours!

After your well deserved rest, you could have a shore excursions, or shopping while exploring the culture and life style of local villagers. Once you return aboard, you will be delighted with a fresh, tingling cocktail on the comfortable stern cushions. Then a delicious dinner, prepared with fresh food from local markets, will be waiting for you: you will enjoy it surrounded by the sea. in the late afternoon, the gulet will be moored to a harbour or in a quiet bay for your overnight stay.

The Gulet cruises we offer is standard or superior, with a lenght from 22 to 30 meters, with 5 to 10 cabins (10 to 20 beds) each with its own bathroom and shower (with hot and cold water). Each boat is covered with on-board insurance, VHF, radio phone, stereo, and dinghy. The crew consists of Captain, cook and one or more sailors.
The Standard Gulet category: They are simple and basic, they offer essential furnishing and each cabin has a private bathroom and a shower. This type of Gulet are not always equipped with generator or air conditioning, as some of them are not of recent construction. The current 220v slots for charging electronic equipment are available and it is available during the navigation or in harbour only. This category is recommended for adventure seeking youngsters and sport persons.

The Superior Gulets category: This type of Gulet offers spacious cabins with comfortable bathrooms often equipped with shower cubicle, comfortable furnishings. They are nicely furnished and have proper sail riggings, one or two engines, generators, air conditioning system, refrigerators and freezers. Generally, crew consists of 3 or 4 members, such as the Captain, cook and a sailor. The crew is always willing to fulfill your requests. These bigger Gulets are often equipped with facilities for various water sports, such as canoeing, windsurfing, fishing and etc.

The following pictures are an example of Standard and Superior Gulet categories used by cabin charter


Standard Category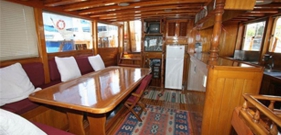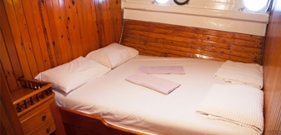 Superior Category