Origin and models
Turkey enjoys a thriving market of this particular type of boat called Gulet, which is known all over the world with different names such as Gulets, Gullet, Goulet, in France it is famous as Goulette, in Spain as Goleta and in Italy as Caicco.
This model of motorsailer, in the past completely built in wood and used by Turkish people as a fishing boat, has undergone an evolution over the decades to adapt it to the use of pleasure craft, given its comfort and safety features. These boats, classified as Motorsailers, have the engine as main propulsion and use the sails as support. In fact, in the ratio between engine (measured in Hp) and sail area (measured in square meters of canvas), the motorization is higher than 50%.
These boats stand out, proportionally to their size, for the large outdoor and indoor spaces, large awnings with comfortable sunbathing cushions and aft large tables for meals. They also have large tanks for water, fuel and black waters.
Classic models
Gulet, with round stern, with a classic line, streamlined and elegant, with large cushions at stern but, just for this, the space of the below cabins is not so wide. They can have ketch or schooner rig. The length may vary from 16 to 50 meters.
Aynakiç, flat stern that allows a greater use of the interior spaces, being able to obtain a wide master cabin. The rig is usually a ketch. The sizes range from 16 to 50 meters.
Tirhandil, stern and bow to the corner at the same height. This model enables a better sailing performance. Generally equipped with a single mast, they are elegant on sizes of no more than 19 meters.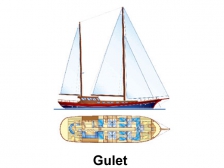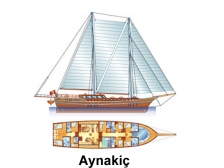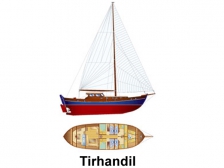 ---
Categories
Luxury Gulet category: This Gulet has two engines, a good sailing equipment and every comfort with modern and complete navigation and safety technologies. Most of them has the hull in laminated, sometimes in steel, with a length from 18 to 50 mt. The interior spaces offers elegant classic or modern design, cabins are always large, 5 to 6 maximum, and equipped with every comfort, such as independent air conditioning system, large spaces for storing clothes and personal items, flat TV and DVD, large bathrooms with shower cubicles, often with a Jacuzzi bathtub. These Gulets comply with European regulations being in possession of CE marking or required Classifications. The Gulet of this category have a significant cost. We recommend this kind of gulet for private charter or for commercial use for a high and very demanding customer target.

Superior Gulet category: They offer spacious cabins, comfortable bathrooms with shower, pleasant furnishings, often adequate sail riggings, one or two engines, generator, air conditioning system, refrigerators and freezer. These types of Gulet are sometimes made in fine woods and materials very close to European standards. They are often equipped with various water sports equipment. The prices of this category still remains very reasonable compared to the European ones. We recommend these Gulets for private use or for commercial use for a medium to high customer target.
Standard Gulet category: This type of Gulet is existing for a long time. It has only one engine, and not always a marine one, often without air-conditioning and freezer. The hull and the deck are usually made of pine, sometimes not even marinized, with simple and essential interiors. Usually we do not recommend to purchase this standard type of Gulet for both private and commercial use, unless you want to cope with large and expensive upgrading works.
---
Hull materials
Classic laminate hull: The structural parts and the hull are built according to this technology. The trunk, generally in mahogany, is divided into strips, dried and selected for their quality, and then joined together to make boards of the same thickness. Finally, these boards are put one on the other and glued together with epoxy resins to form the beams. In this way, the characteristics of mechanical resistance of this type of wood are higher than those of the traditional planking, thanks to the choice of the strips and to the elimination of all natural defects, as well as the use of synthetic glues with high resistance, both mechanical and temporal. These hulls do not require standard annual maintenance.

Steel hull: As an alternative to laminate hull, some Turkish shipyards in the recent years have become more specialized in the construction of Gulet with steel hulls, deckhouse, bridge and interior furnishing in high quality wood, with a good result in terms of safety and aesthetics outlook and a corresponding great decrease in maintenance costs as well. The existing market offers a few steel hull Gulet but of considerable size.

Traditional planking: The structure in wood is covered with planks in pine or of an higher quality wood such as teak, iroko and mahogany nailed and caulked to waterproof the hull. This type of hull requires a constant and careful annual maintenance. We suggest to anyone interested in the purchase of this particular kind of hull to be very careful, as should the boat have not been regularly maintained, they could have serious problems with the hull. In the last years, this type of Gulet are also found in other Mediterranean countries as second hand boats, to higher prices as they have already been renewed and registered in Europe.